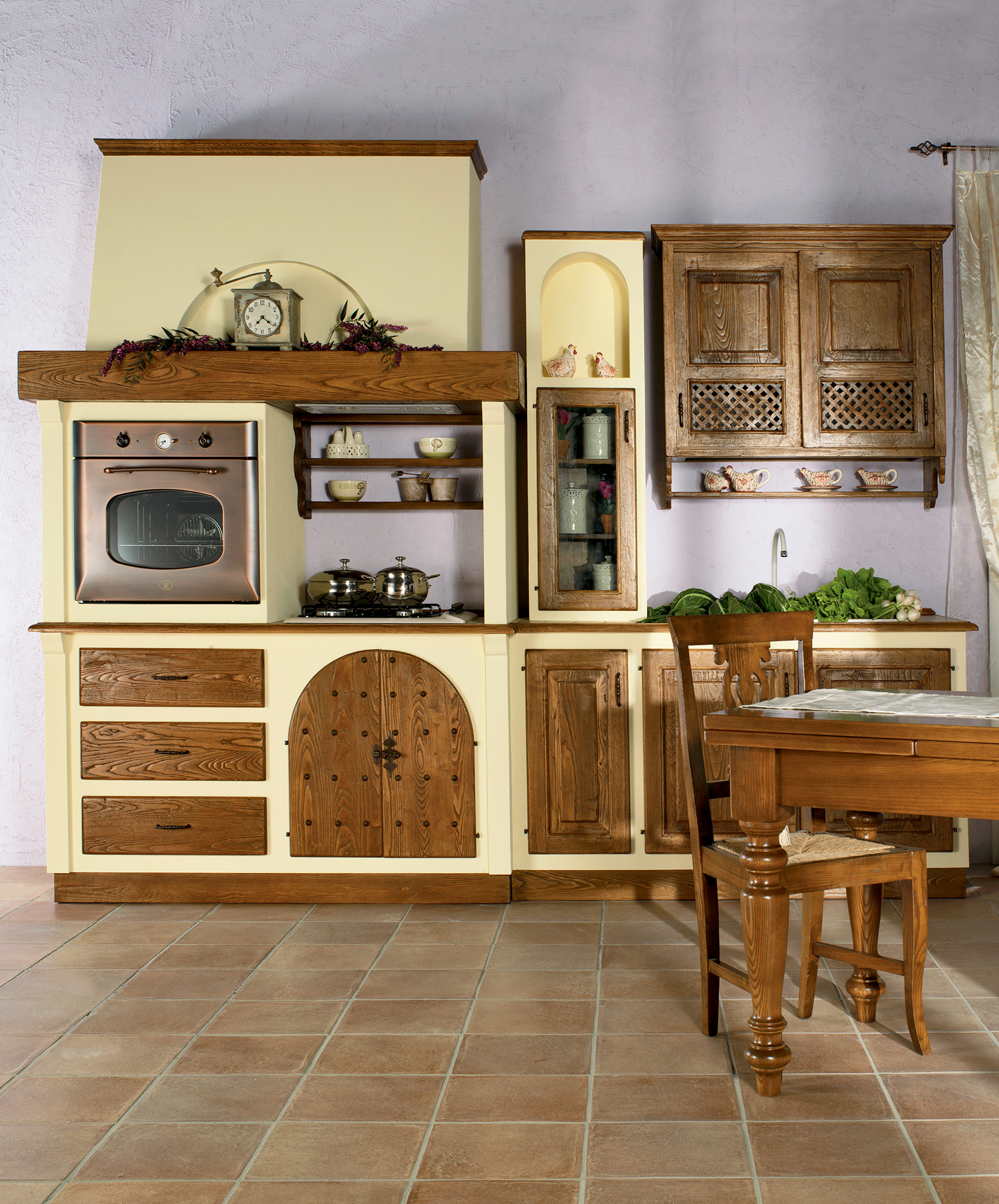 Name

VITTORIA

Title

Masonry kitchen

Code

COMP. 3015

Catalogue

Signorie

Measurements

L 278 - W 64 - H 228
Modular kitchen structured in masonry and with base modules and wall units in aged chestnut with hand-aged light walnut finish; doors with ledge with frame with shaped frame and shaped panel and drawers with ledge with plain front. Composition: base with three drawers and above oven compartment, base for hob with two plain doors with semicircular profile and above hood extractor hood with plain protruding cornice, one door base and upstand with transparent glass door, base with two doors for sink, and on the wall cabinet two doors with grate and open shelf. Worktops with 25 mm thick tiles. Plinth with plain and closed recessed sector panel (appliances excluded from the price, can be supplied on request). A precious and unique piece of furniture to furnish your home with a refined and elegant style.
Volume

4.60

Weight

273

Package

1

Measurements

L 278 - W 64 - H 228

Structure

Structure: in masonry with 19 mm thick Tanganyika veneered edged blockboards.

Door frame

Doors frame: with door ledge, in old solid chestnut 30 x 65 mm thick. With with overmounting cornices.

Shaped door panel

Shaped door panel: in old chestnut 23 mm thick.

Drawer front

Drawer front: plain with ledge, 19 mm thick solid chestnut

Drawer's sides and bottom

Drawer sides: 14 mm thick solid chestnut panel and dovetail joints. Bottom panel in solid old chestnut, 14 mm thick

Drawer runner

Drawer runners: full extension blumotion with soft closing.

Bottom panel

Bottom: panel in solid old chestnut 19 mm thick

Back panels

Back: panel in solid old chestnut 14 mm thick

Internal shelf

Shelf: panel in solid old chestnut 19 mm thick.