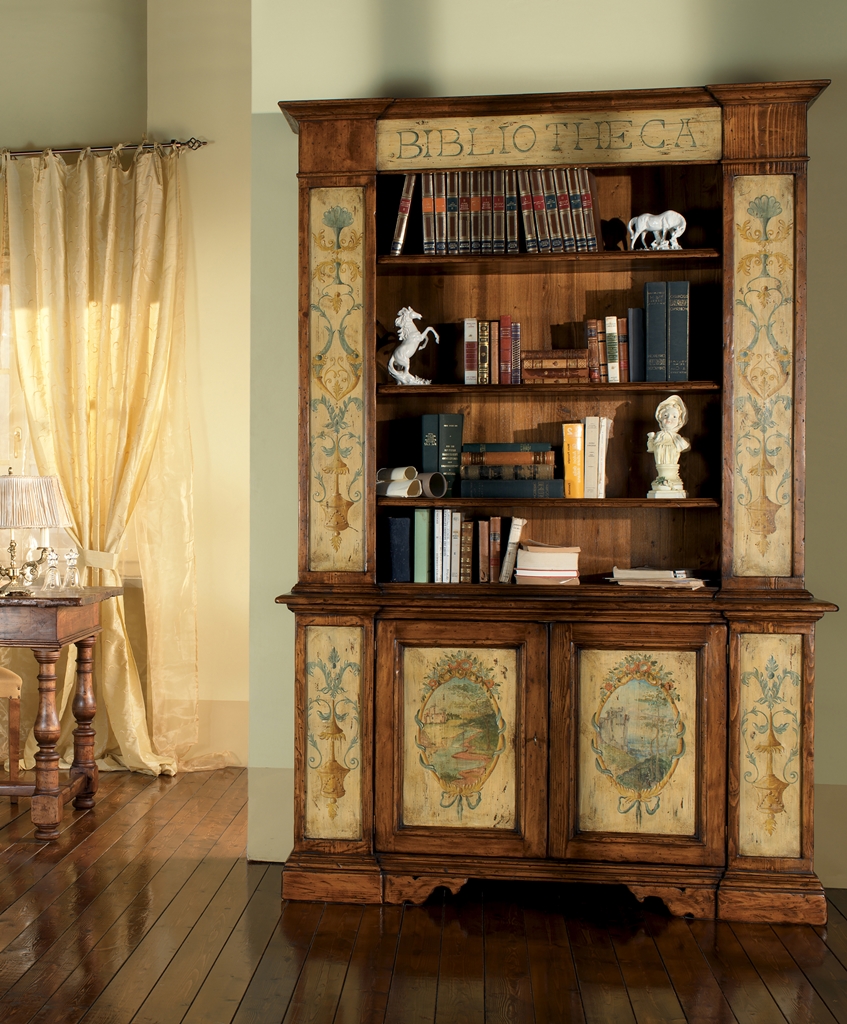 Name

TAMARA

Title

Two-door sideboard with bookcase

Code

3772

Catalogue

Signorie

Measurements

L 150 - W 50 - H 230
Sideboard in solid old fir aged.Light walnut finishes with a hand-waxed date. Plaster and colored panels and with hand-painted decorations; base front with two advanced columns with frame and plain panel and two flush doors with plain panels.The top has a profile with an owl's beak with a shaped frame underneath. The sides are with plain panels. The plinth is shaped by hand and also open on the sides with a shaped cornice. Internally it has a shelf.The riser is slightly narrower than the base and is made up of two columns with frames and plain panels which enclose the open compartment with four shelves used as a library. Shaped top with protruding cornice.A precious and unique piece of furniture to furnish your home with a refined and elegant style.
Volume

2.00

Weight

120

Package

1

Measurements

L 150 - W 50 - H 230

Structure

Structure: in solid old fir 19 mm thick.

Door frame

Doors frame: for flush doors, in solid old fir 40 x 80 mm thick.

Shaped door panel

Shaped door panel: in old solid fir 23 mm thick.

Side panels

Sides: in solid old fir 19 mm thick.

Bottom panel

Bottom: in solid old fir 19 mm thick

Back panels

Back: in old fir solid 14 mm thick.

Internal shelf

Internal shelf: in solid old fir 23 mm thick