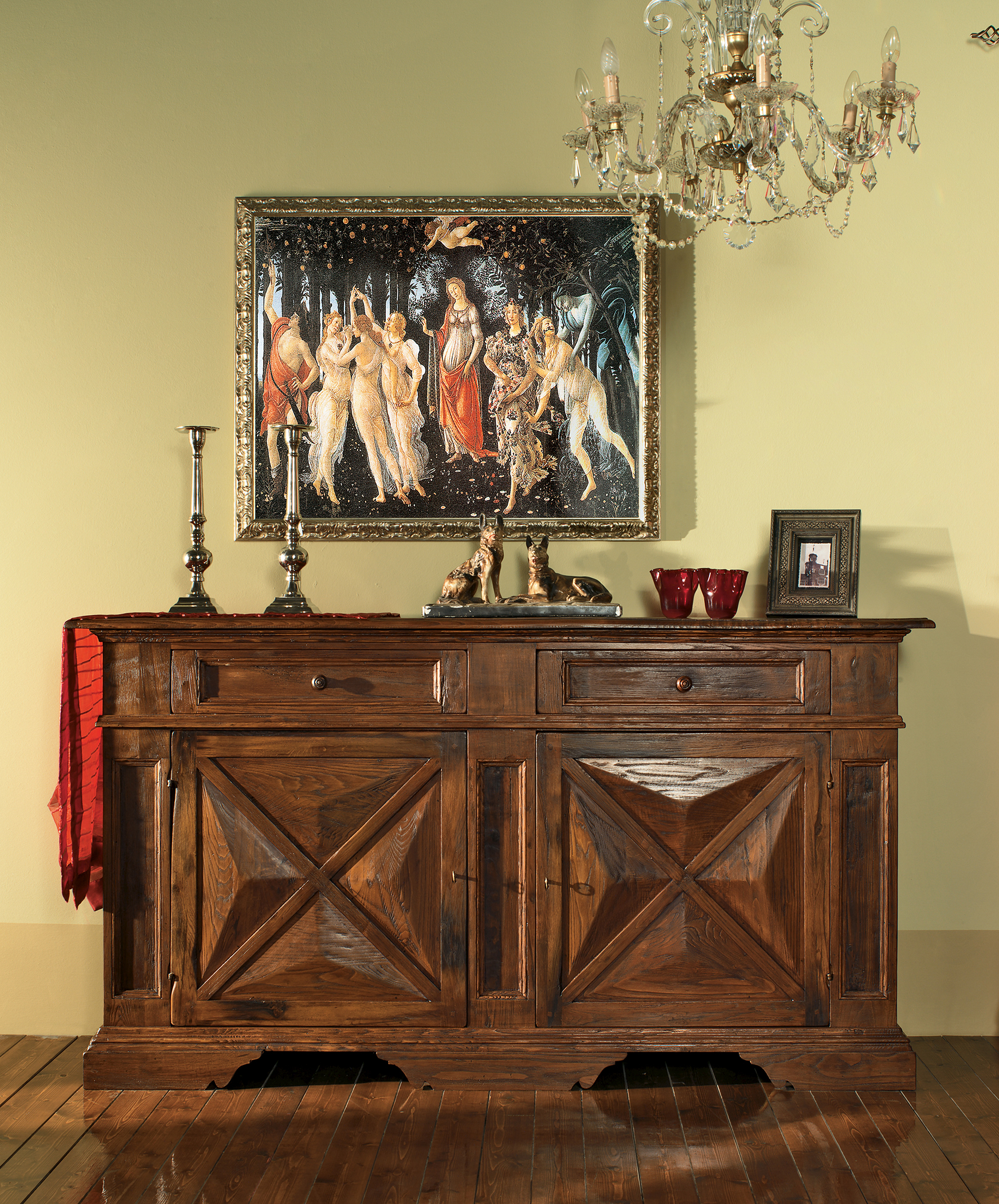 Name

MONICA

Title

Two-door sideboard "Diamante"

Code

3292

Catalogue

Signorie

Measurements

L 150 - W 50 - H 105
Sideboard in aged chestnut, brown finish aged with wax given by hand, front with two columns with over mounted cornices and plain panel and with two flush doors with panels divided into four-diamond segments, two flush drawers with plain front with over mounted cornices. The top has the profile with an owl's beak with a shaped frame underneath. The sides are with a frame and with plain panels. The plinth is shaped and opens both frontally and on the sides with a shaped cornice. Internally it has a shelf. A precious and unique piece of furniture to furnish your home with a refined and elegant style.
Volume

0.93

Weight

56

Package

1

Measurements

L 150 - W 50 - H 105

Structure

Structure: in solid aged chestnut 19 mm thick.

Door frame

Doors frame: for flush doors in aged solid chestnut 40 x 70 mm thick.

Shaped door panel

Shaped door panel: in aged solid chestnut 23 mm thick.

Drawer front

Drawer front: flush drawer in solid aged chestnut 19 mm thick with cornice.

Drawer's sides and bottom

Drawer sides: 14 mm thick solid chestnut panel and dovetail joints. Drawer bottom panle in solid chestnut, 14 mm thick

Drawer runner

Drawer runners: on solid beech beams.

Side panels

Sides: in aged solid chestnut 19 mm thick.

Bottom panel

Bottom: in solid aged chestnut 19 mm thick

Back panels

Back: in aged solid chestnut 14 mm thick.

Internal shelf

Internal shelf: 19 mm thick solid chestnut