A pleasant wait
High-quality benches with decorated seat and backImagine a corridor enriched by a single piece.A home entrance or a waiting room of a professional studio embellished with a hand-decorated seat.A bare wall that relives the greatness of the past.A wait that becomes pleasant.Entering an environment is like a business card of our character. A summary of our style.There, even if for a few seconds, the guest is entertained. It is welcomed, and the guest feels the warmth and harmony of the rooms.The seat you choose is like an imprint, a reflection of us, of our world, of our living environments.
Design benches
A charismatic piece of furniture that embodies the past
Sinuous shapes that retain a
timeless charm
.Unique pieces that narrate experiences and stories. They whisper of a not too distant past.
Precious shapes
and colors that harmoniously match classic and modern.
Architectural structures ranging from an
Italian style of the Renaissance
period to a simplified
Art Nouveau style
of the period 1895-1925. There are many proposals by Tiferno Mobili,
adaptable to the style of any environment.
Shaped backs, closed or with sinuous openings, 3 legs, 4 legs, saber legs, lyre legs, hips with two rear spiked legs, and with two rounded legs. Seat top with rounded or shaped corners, with or without armrests. Pinstripe, colored, and hand-decorated finishes. Frames in antique silver or gold leaf.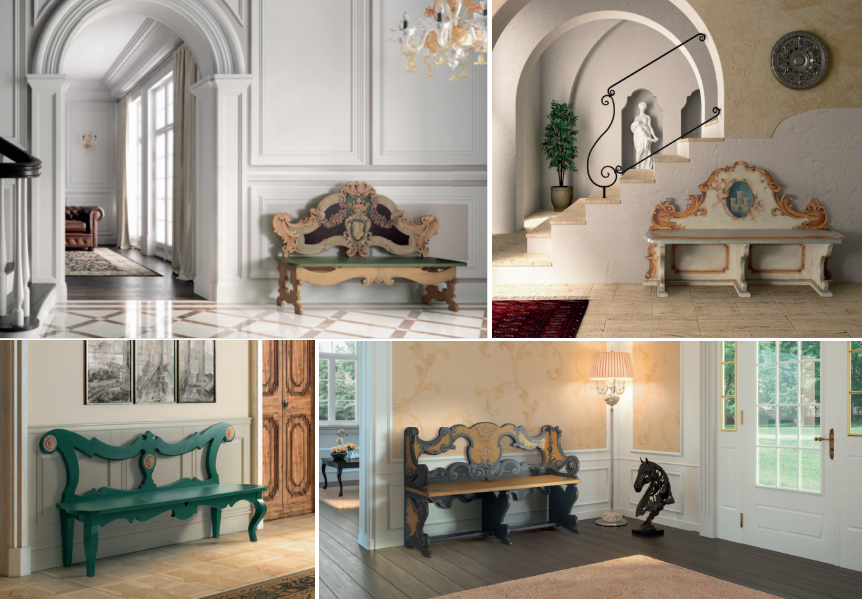 Rethinking the space | The welcome, the harmony, and the impact
Seats that make the difference
For those who live in the house, the entrance is the transitional environment in which to leave the outside world behind to enter into domestic intimacy; it is the place where you are greeted by a
positive vibration
and a feeling of serenity. For those waiting, the corridor or the waiting room is the first space with which you approach a studio, for example, and the final result is strongly connected to the image of the professional himself and his team. Surprising your guests with a
touch of class
means offering a wellness experience, playing on the
aesthetic and design factor.
The choice of seats and the style of the seats give
added value
and elegance to the environment. The benches are furnishing accessories with simple and versatile lines that respect the harmony of the environments, taking into account the characteristics of the place where they will be positioned. Characterized by an innovative and refined design, they give
brightness and authenticity
to walls and corridors, often lacking in accessories and colors. Thanks to a bench, the environment
breathes, relives, is renewed
without having to resort to other decorative elements.
by Sara Lauri © 2020 Tiferno Mobili s.r.l.
Discover the other models
See the complete collection on https://en.tiferno.it/products/c70-benches.php
Request your bench at
info@tiferno.itAnd remember that all Tiferno Mobili items and collections are fully customizable